WHEN: Wednesday, May 22, 2013, 6:00–8:00 PM
WHERE: Dominion Enterprises (20th Floor, XYZ Room), 150 Granby Street, Norfolk, VA 23510
RSVP Here

EVENT DETAILS:
Come spend an evening with Mac Smith, Staff User Experience Researcher at Google X and hear about UX methodologies at Google.
UX at Google: Shipping simple, useful and beautiful experiences daily. 
Google moves fast, and ships new experience to billions of people every day. How does UX at Google create great experiences for a wide variety of people all over the world?  What role does UX at Google play in advocating for users and championing simple, useful, and beautiful experience?  Answers to these questions and more as Mac takes a shot at explaining design and research in the wonderful, crazy world of Google.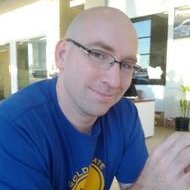 Google [x] has been called the "secret underground labs" where self-driving cars and tweeting refrigerators are born!! At the very least, its the Google advanced R&D division. Mac Smith is a staff user experience researcher at Google [x], and has worked on a few projects you may have heard of, recently Google Goggles, Indoor Maps and Project Glass. Prior to Google, Mac worked at Microsoft Games, where he worked on the Kinect launch and a number of other titles.  His PhD is from George Mason University in Human Factors and Applied Cognition, and his BS is from Old Dominion University.
**This event will be taking place at Dominon Enterprises, which requires us to list our guests ahead of time. Therefore, you MUST get your ticket to be allowed into the building.**